Back to overview
Configurations
The best in class flatbed utility vehicles
Addax electric flatbed utility vehicles are best in class for their flexibility. They can be used for a variety of professional endeavors, thanks to their extreme versatility and many advantages, like:
The best storage capacity for a vehicle of its size.
Easily adaptable to carry loads of varying sizes and weights.
A highly efficient loading and unloading mechanism.
Our electric flatbed vehicles are also available in different lengths and sizes, ensuring that your business' needs are met, whatever they are. Additionally, each of our vehicles are 100% Belgium made, so you can be assured of the best quality. Because of just how useful it can be, our electric flatbed vehicles are used in both the public and private sectors, primarily in an industrial and logistics business context.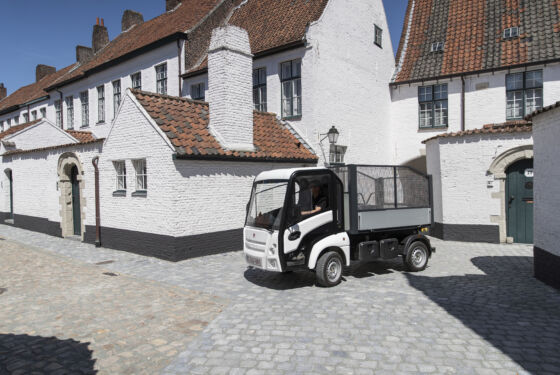 Performance when you need it
If you've experienced using a flatbed vehicle that just wasn't able to meet your storage needs, then an Addax electric flatbed utility vehicle might be the solution to your problems. Height and width restrictions are a thing of the past, as our vehicles come standard with an impressive volume of 5m³ and a payload of up to 1000kg. High-quality tiltable aluminum sideboards round out the functional and durable design.
We're committed to helping you meet your needs
We'll work with you to create an Addax flatbed configuration that suits your business' needs! It's our pleasure to optimise our vehicles to help you achieve your goals. Every Addax vehicle is fully customisable. Click here to reach out to us so we can discuss how an Addax can best meet your needs.
Flatbed options
High drop-sides with net
High drop-sides with net – with removable posts
Rear door in net
Side door in net
High drop-sides full plate 90cm
Rear extension of 25cm for flatbed
Cover canopy with metallic structure
Leaf net cover
Tarpaulin cover
Cabin options
Servopowered steering
Webasto heating
Electrical heating 1,8kW
Double DIN auto-radio with Bluetooth
Double DIN auto-radio with Bluetooth with rear-view camera
Beacon revolving light
Double LED blinking bar front
Double LED blinking bar rear
Triple LED blinking bar with roof bar
Rear-view window
12V USB charger
Pedestrian buzzer
Two-speed button settings
Mountain hill assist switch
RAL colour (except RAL 9016)
Special/Customized colour (non RAL-colour)
Closed box charging
Rubber floor mat
Chassis options
Addax hubcaps set (4 pieces)
Spare wheel with mounted all season tyre
Spare wheel with mounted winter tyre
Extra set of steel rims (without tyres)
Trailer hitch
Lower storage box with lock
Winter tyres with steel rims (4pieces)
Safety options
Fire extinguisher + Safety kit
Flat tyre kit
Jack + wrench
Warning stickers red white
Extra options
Cabin and chassis paint repair pen (RAL 9005)
Flatbed and tipper repair pen (RAL 9016)
Charger adaptor cable type 2
Additional builds
High pressure combo skid
Watering skid
Leaves vacuum system TL 450 Pro 9 HP
Leaves vacuum system optional ergonomic handle
Looking for a customised vehicle?
Let's discuss what we can do for you.
Distributors
CONTACT AN ADDAX DISTRIBUTOR IN YOUR AREA
Addax distributors are located all over Europe, ensuring smooth purchasing and easy maintenance of your fleet. Click here to find a distributor near you.