Back to overview
Sector
Electric utility vehicles for efficient post delivery
Our vehicles were designed to make the postman's job quicker and more efficient. Whether you need to deliver post to a small town or a big city, we've got you covered with vehicles that support a driving range of up to 120km and 1000kg payload.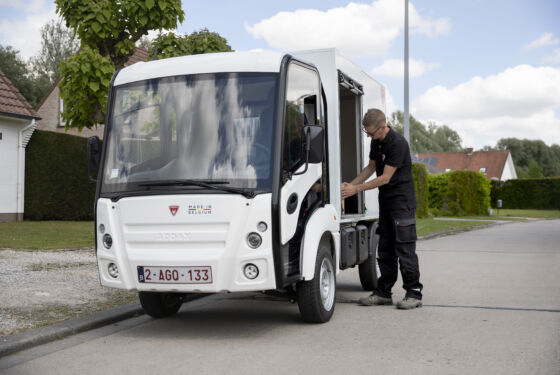 Addax electric utility vehicles ensure efficiency. Our electric cargo vans can be customized in countless ways to meet your specific delivery needs. Think compartments and shelves for small packages, secure straps for bigger packages and even a special place for envelopes. Everything can be neatly organized in our electric utility vehicles, making the delivery of post less chaotic, much faster, and ergonomic for the postman.
Inside the cabin of our electric utility vehicles, you'll find the comfort you need. Addax electric utility vehicles will make delivering the post a joy!

Silent, efficient vehicles
Unlike diesel-fuelled delivery vehicles, our electric delivery vehicles are completely quiet. This makes delivering the mail early in the morning or late at night more considerate of the neighbourhood. You won't disturb the residents in the event you have to park close to houses or stop several times in the same street with the engine running.
Best in-class maneuverability
Addax light electric vehicles are some of the most maneuverable on the market. They are fast enough for periphery lanes, and small enough to turn in alleyways. With a turning radius of only 4.5m, you'll be able to get in and out of narrow streets and cramped spaces easily—something that's impossible with the average delivery vehicle. Despite the compact size of our vehicles, they also boast a large loading capacity, making the perfect companion for the urban postman.

Want to grow towards more efficient and environmentally-friendly post delivery? Contact us for more information! Our experts are ready to answer all your questions and help you design your unique electric delivery vehicles.
CONFIGURAZIONI
Addax MTN: unique, durable and affordable
We pride ourselves on manufacturing electric vehicles that are completely Belgian-made and fully electric. The Addax MTN is the best solution for your company's urban transportation and delivery needs.
Looking for a customised vehicle?
Let's discuss what we can do for you
Contact an addax distributor in your area
Addax distributors are located all over Europe, ensuring smooth purchasing and easy maintenance of your fleet. Click here to find a distributor near you.