Back to overview
Sector
Electric vehicles for industry and facility management
Does your company need vehicles that can cover long distances efficiently? Addax's electric utility vehicles are as versatile as a Swiss army knife, making it possible for them to transport all kinds of cargo—tools, materials and equipment—regardless of the weight or size. The comfortable cabins are the icing on the cake, allowing your employees to work in comfort and safety.
A few of the advantages of Addax fully electric vehicles are:
A driving range of up to 120km on a single charge.

Complete adaptability to the needs of your business.

Five year battery warranty, protecting your investment.

A loading capacity of up to 1000kg.

Spacious, ergonomic cabins.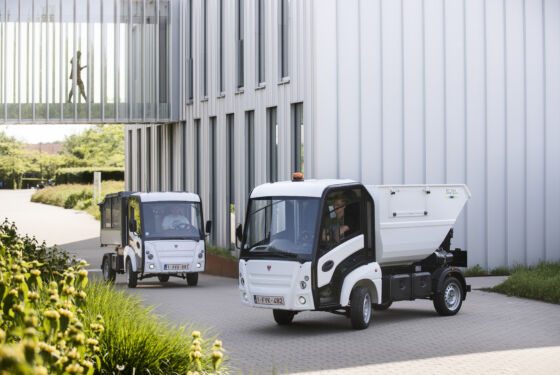 Environmentally Friendly, 100% Electric
Our electric vehicles do more than boost your company's efficiency. By opting for our 100% green and 100% electric vehicles, you're also boosting your company's corporate social responsibility. Powered by lithium-iron-phosphate batteries, our vehicles are safer for the environment than the alternative. Each battery can be fully recycled and used for other industrial purposes.
Customized For Intralogistics
Our lightweight vehicles can be manufactured to suit your company's logistics and transportation needs, making it possible to fully adapt them to your unique workflow. Consider these two use cases:
For a major aluminum producer, we can design a fully adapted logistics utility vehicle that can move foundry castings quickly and efficiently.

For a major engine manufacturer, we can assemble the ideal logistics vehicle that is able to transport the spare parts and equipment needed to repair a damaged pallet—and do it fast, to keep things flowing smoothly on your production line.
What's more, is that Addax electric utility vehicles have zero emissions, making them perfect for indoor working environments. Additionally, our vehicles are equipped with the best in-class safety features for electric vehicles, like a panoramic cabin view and dual independent brake system.
For Amusement & Holiday Parks
Addax electric commercial vehicles shine in child-friendly, fun outdoor environments like amusement and holiday parks. For example, our electric utility vehicles can be equipped with a combi-tipper or flatbed for waste collection and maintenance in your park. Or a utility vehicle with cooled cargo is perfect for use as a mobile food and drink stand.
The possibilities are endless when you consider all the different ways that Addax electric vehicles can improve your company's efficiency and corporate social responsibility. Electric vehicles are the way of the future, and their usefulness is unmatched. For more information on how you can integrate Addax electric utility vehicles into your company's workflow, contact us. A member of our team is standing by to help you.
Configurations
Addax MTN: unique, durable and affordable
We pride ourselves on manufacturing electric vehicles that are completely Belgian-made and fully electric. The Addax MTN is the best solution for your company's urban transportation and delivery needs.
Looking for a customised vehicle?
Let's discuss what we can do for you
Contact an Addax distributor in your area
Addax distributors are located all over Europe, ensuring smooth purchasing and easy maintenance of your fleet. Click here to find a distributor near you.