Back to overview
Model
Discover the Addax MTX
Made to improve upon the success of the MTN model, the Addax MTX heralds a new era in electric utility vehicles. We pushed our creativity to higher heights, and created a vehicle that is not just environmentally-friendly but robust and ready for any task. The Addax MTX combines all the amazing features of the Addax MTN with a longer chassis, giving you more cargo space.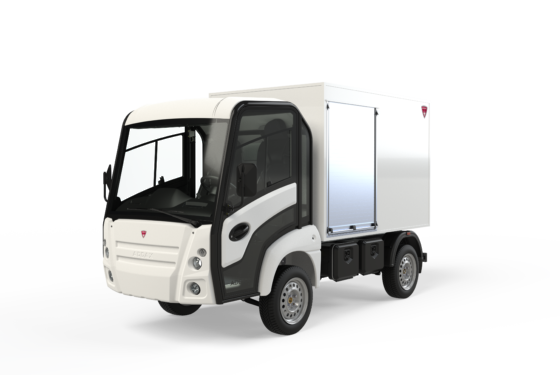 Best in class comfort & durability
With the Addax MTX, you can still expect the durability and comfort that makes the MTN so popular. Built for everyday tasks that push this electric vehicle to its limit every day, the following comes standard on the MTX.
A chassis that is 50cm longer than the MTN, giving you 7m³ of cargo space.
A width of only 1.40m, allowing you to navigate narrow city streets.
A load capacity of up to 1,000kg and a maximum power of 12kW gets the job done.
Optimal driving comfort with springs and shock absorbers.
Corrosion-treated parts, to prevent decay and corrosion through use.
Configurations
Addax MTX: unique, durable and affordable
We pride ourselves on manufacturing electric vehicles that are completely Belgian-made and fully electric. The Addax MTX is the best solution for your company's urban transportation and delivery needs.
Cabin options
Servopowered steering
Webasto heating
Electrical heating 1,8kW
Double DIN auto-radio with Bluetooth
Double DIN auto-radio with Bluetooth with rear-view camera
Beacon revolving light
Double LED blinking bar front
Double LED blinking bar rear
Triple LED blinking bar with roof bar
Rear-view window
12V USB charger
Pedestrian buzzer
Two-speed button settings
Mountain hill assist switch
RAL colour (except RAL 9016)
Special/Customized colour (non RAL-colour)
Closed box charging
Rubber floor mat
Chassis options
Addax hubcaps set (4 pieces)
Spare wheel with mounted all season tyre
Spare wheel with mounted winter tyre
Extra set of steel rims (without tyres)
Trailer hitch
Lower storage box with lock
Winter tyres with steel rims (4pieces)
Safety options
Fire extinguisher + Safety kit
Flat tyre kit
Jack + wrench
Warning stickers red white
Extra options
Cabin and chassis paint repair pen (RAL 9005)
Flatbed and tipper repair pen (RAL 9016)
Charger adaptor cable type 2
Additional builds
High pressure combo skid
Watering skid
Leaves vacuum system TL 450 Pro 9 HP
Leaves vacuum system optional ergonomic handle
Looking for a customised vehicle?
Let's discuss what we can do for you.
Distributors
Contact an Addax distributor in your area

Addax distributors are located all over Europe, ensuring smooth purchasing and easy maintenance of your fleet. Click here to find a distributor near you.