Back to overview
Configuration
Addax—the best electric combo tipper vehicle
With Addax electric combo tippers, you get the best of convenience, flexibility and comfort. Addax combo tippers are the best companions for outdoor work— allowing your company to tackle the demands of maintenance, landscaping and even signage. All Addax combo tippers are:
Fully electric and made in Belgium.
100% quiet and emit no CO2 or greenhouse gases.
Fully customizable to suit your business needs.
Optimised for the comfort of the driver.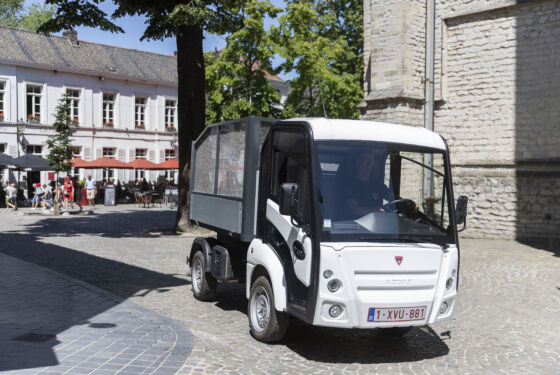 Complete flexibility to suit your company's needs
Each Addax electric utility vehicle comes equipped with features that will make your field of work easier—whatever it may be. With a wide range of technical specifications to choose from, you can be sure to find a configuration that matches what you need, like:
A storage capacity of up to 1,000kg, a top speed of 70km/h and a turning radius of 4.5m.
Steel-made lockable cabinet of up to 500 liters between the cabin and body, for storage of outdoor equipment.
Open-top cargo compartment, making it possible to load, unload and carry unevenly sized materials.
Best in class driver comfort thanks to spacious cabins and extra wide seats.
Hydraulics-powered doors that allow them to tilt open automatically.
Fully electric, 100% Belgian made.
Addax electric combo tipper vans are made for both urban and industrial uses. Each electric combo tipper comes standard with an autonomous battery and driving range of up to 120 km on a single charge. A 5-year battery warranty protects your investment, and helps keep the environment safe as every Addax battery is completely recyclable.
A welcome addition to your daily work
An Addax electric combo tipper vehicle will increase your productivity. We can make any customizations you need to facilitate this—like changing the length of the tipper, adding side or rear doors or even additional netting. Click here to reach out to us so we can discuss how Addax Motors can best meet your needs.
Combo tipper options
High drop-sides with net
High drop-sides with net – with removable posts
Rear door in net
Side door in net
High drop-sides full plate 90cm
Rear extension of 25cm for combo tipper
Cover canopy with metallic structure
Tipper option autonomous battery
Leaf net cover
Tarpaulin cover
Cabin options
Servopowered steering
Webasto heating
Electrical heating 1,8kW
Double DIN auto-radio with Bluetooth
Double DIN auto-radio with Bluetooth with rear-view camera
Beacon revolving light
Double LED blinking bar front
Double LED blinking bar rear
Triple LED blinking bar with roof bar
Rear-view window
12V USB charger
Pedestrian buzzer
Two-speed button settings
Mountain hill assist switch
RAL colour (except RAL 9016)
Special/Customized colour (non RAL-colour)
Closed box charging
Rubber floor mat
Chassis options
Addax hubcaps set (4 pieces)
Spare wheel with mounted all season tyre
Spare wheel with mounted winter tyre
Extra set of steel rims (without tyres)
Trailer hitch
Lower storage box with lock
Winter tyres with steel rims (4pieces)
Safety options
Fire extinguisher + Safety kit
Flat tyre kit
Jack + wrench
Warning stickers red white
Extra options
Cabin and chassis paint repair pen (RAL 9005)
Flatbed and tipper repair pen (RAL 9016)
Charger adaptor cable type 2
Additional builds
High pressure combo skid
Watering skid
Leaves vacuum system TL 450 Pro 9 HP
Leaves vacuum system optional ergonomic handle
Looking for a customised vehicle?
Let's discuss what we can do for you.
Distributors
Distributors across Europe
A strong, experienced network of distributors across. Giving you a contact point anytime, anyplace. These distributors know the product trough and trough. Closely and meticulously following up on your fleet.