Back to overview
Configuration
Long range electric refrigerated trucks
If your industry requires the use of refrigerated trucks to deliver your goods, then an Addax can help you make deliveries at controlled temperatures. With active ATP certified refrigeration, our vehicles have a volume of 4,000 liters that can generate optimal cold temperatures for up to 12 working hours. Our trucks are compact, 100% electric and easy to handle as they were specifically adapted for transportation in cities and towns.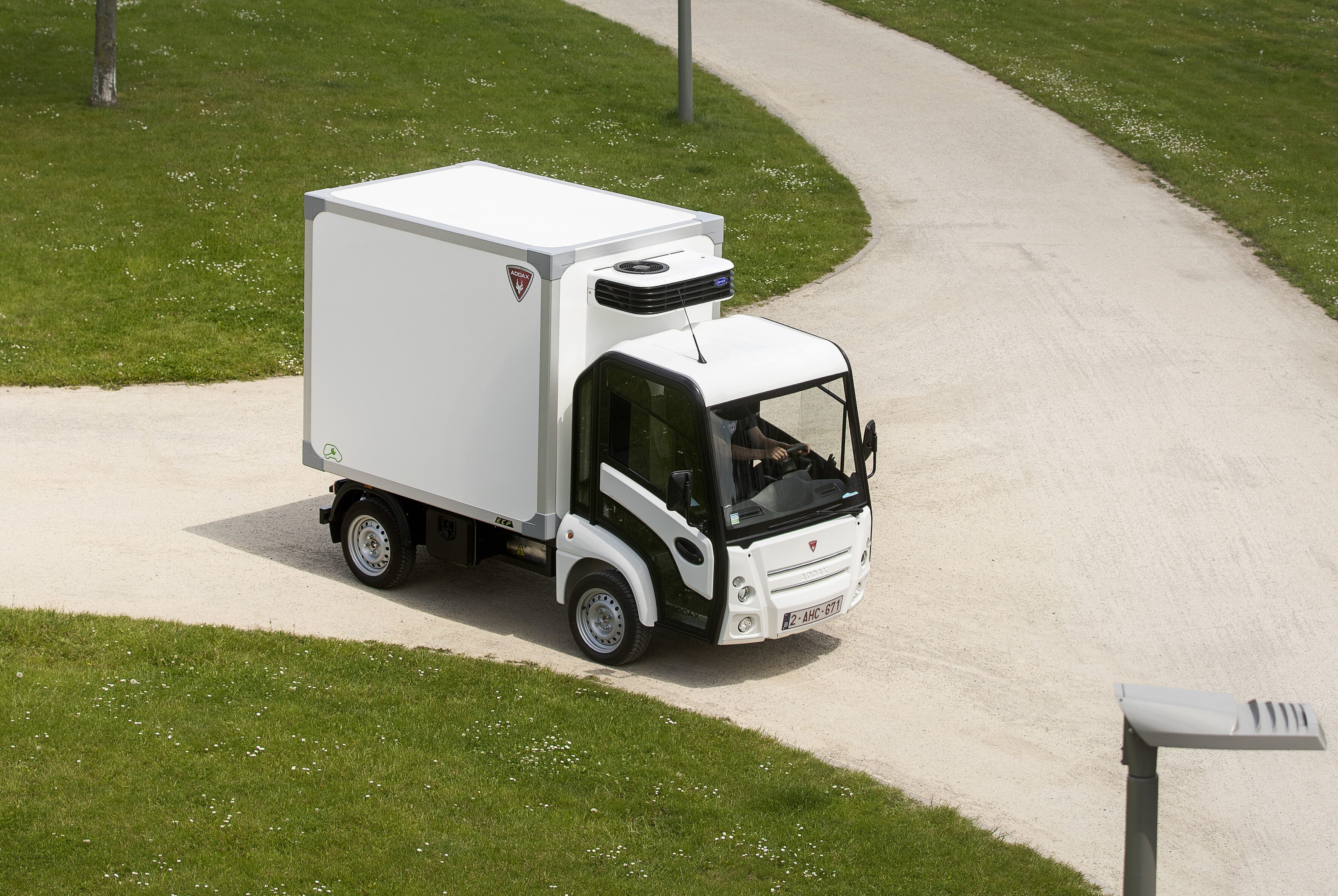 The best solution for the environment
Every Addax refrigerated vehicle is 100% electric with zero emissions, making them the perfect green solution for delivering fresh products in urban areas. The temperature of the cargo is easily adjustable by the driver from within the driver cabin, ensuring the optimal temperature during transportation.
Safe and secure transportation of your goods
With the uptick of home delivery, it's no wonder that more and more companies are using refrigerated trucks for transporting food, beverages and pharmaceuticals. Currently, refrigerated trucks are also required for the transport of florist products, some engineering materials and more. Addax refrigerated trucks can be retrofitted to suit the needs of those industries.
With years of experience under our belt, we can help you make the right choice for your business. We'll help you decide on the size and cargo space that best suits your needs. Contact us to discuss how we can help you
Cabin options
Servopowered steering
Webasto cabin heating

- Webasto AirTop2000 (low temperatures)

Electrical heating

- Connected to the main battery of the vehicle

Double DIN car radio with bluetooth
Double DIN car radio wit bluetooth and rear camera

- The diafragm of the camera is 170°

Beacon revolving light

Double Led blinking bar front

- 2 LED-lights on the front panel

Double Led blinking bar rear
Triple Led blinking bar roof
Rear window

12v USB Charger

Pedestrian buzzer

Two-speed button

Mountain hill assistance
RAL Color (Except white)
Other color (No RAL color)
Chassis options
Addax hubcaps set (4pcs)
Spare wheel with mounted all season tyre
Spare wheel with mounted winter tyre
Extra set of steel rims (without tires)
Trailer hitch
Lower storage box with lock
Winterseason tires (delivered with steel rims) set 4pcs
Security options
Fire extinguisher
Flat tyre kit
Safety kit
Jack + wrench
Warning stickers DIN 30710 red white
Extra options
Paint repair pen (cabine and chassis RAL9005)
Paint repair pen (flatbed and tipper RAL7016)
Charger adaptor cable type 2
Looking for a customised vehicle?
Let's discuss what we can do for you.
Distributors
Contact an addax distributor in your area
Addax distributors are located all over Europe, ensuring smooth purchasing and easy maintenance of your fleet. Click here to find a distributor near you.