Back to overview
Sector
Electric utility vehicles for last mile delivery
A new leader in electric vehicles has emerged—Addax utility vehicles. With a driving range of up to 120km on a single charge, here are some of the benefits your company can expect when you choose Addax for last mile delivery:

Up to 1000kg loading capacity, ensuring the most efficient delivery schedules.


A loading volume up to 7m³, one of the largest in-class for electric utility vehicles.

European N1 approval for use in cities and municipalities across the continent.

A turning circle of just 4.5m, allowing drivers to maneuver through tight urban streets.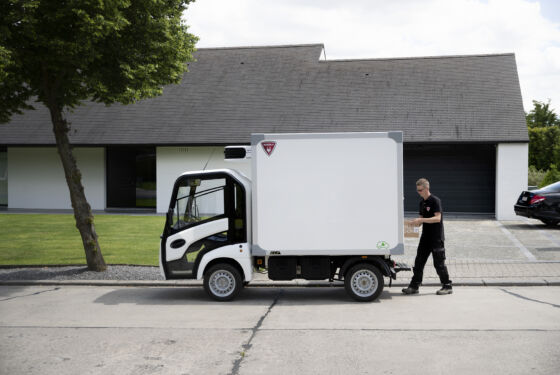 The new face of urban delivery vehicles
Delivery vehicles are a huge contributor to the rising emissions of the transport sector. As more European cities place restrictions on traditionally-powered vehicles in urban areas, the need for emission free vehicles has arisen. Addax light utility vehicles are built to help your delivery company meet these challenges and stay on schedule, all without sacrificing any capacity.
An agile vehicle to match the evolving marketplace
The growth of ecommerce can make logistics a challenge for companies. Heavy vehicles just don't have the maneuverability necessary to make urban delivery simple. Additionally, many cities restrict the kind of traffic allowed in certain areas, making delivery difficult. However, Addax light utility vehicles were designed to navigate the urban maze of narrow paved roads and pedestrian paths easily.
An efficient, light delivery vehicle
As a 100% Belgian owned company, we pride ourselves on developing flexible and adaptable light electric utility vehicles. Not only are they functional and agile, but they also ensure the satisfaction of your customer. All of that, combined with an after-sales service powered by 4G monitoring, makes our vehicles the premier choice for last mile delivery. For more information on how you can add Addax electric utility vehicles to your company's fleet, contact us. A member of our team is standing by to help you!
Configurations
Addax MTN: unique, durable and affordable

We pride ourselves on manufacturing electric vehicles that are completely Belgian-made and fully electric. The Addax MTN is the best solution for your company's urban transportation and delivery needs.
Looking for a customised vehicle?
Let's discuss what we can do for you.
CONTACT AN ADDAX DISTRIBUTOR IN YOUR AREA
Addax distributors are located all over Europe, ensuring smooth purchasing and easy maintenance of your fleet. Click here to find a distributor near you.