Back to overview
Configuration
Zero emission electric garbage trucks for your municipality
With many urban areas aiming to reduce CO2 emissions, having a fleet of waste removal trucks that are emission-free is the first step to ensuring a better environment for the members of your municipality. Addax's electric garbage trucks were created to solve the problem of air pollution that traditional thermic container trucks cause. Each Addax garbage truck is:
Designed for use in towns and cities, with features that make it well-equipped for garbage collection in amusement parks, residential neighborhoods, and recreational areas.
Equipped with the best in-class technology for optimal driving comfort, remote monitoring and driver safety.
Made in Belgium, ensuring the highest build quality of each unit.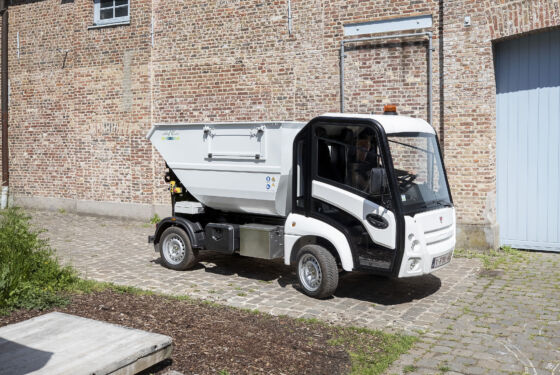 Easy, environmentally friendly... and quiet driving!
Garbage trucks tend to be heavy and difficult to manoeuvre in small narrows streets. At Addax, we have overcome this problem with a 4m turning radius, allowing the vehicle to be manoeuvred efficiently and with optimal comfort. Considering that the storage capacity of this type of commercial vehicle can be up to 1000 kg or 5m³, the manoeuvrability is even more impressive.
Furthermore, the flexibility of our vehicles is perfectly combined with its ecological aspect. Indeed, a garbage truck tends to stop and start frequently, thus generating polluting emissions.
Thanks to our electric garbage trucks, with a range of up to 120km, you can reduce your ecological footprint.
Furthermore, don't worry about being woken up by the noise of our vehicles in the early morning! Apart from their ecological aspect, our electric waste trucks are extremely quiet, preserving the sleep and serenity of the inhabitants.
Carry out the collection of all types of waste
Apart from the renowned quality features at Addax, it is important to specify the special features that set our garbage trucks apart.
You can collect and transport any type of waste. The garbage truck can be configured according to the type of waste you need to transport. This ranges from standard or industrial containers to vertical containers for the collection and transport of liquids.
Whatever your daily, weekly, or monthly waste collection needs are, we can meet your specific requirements. So don't wait any longer and contact us so that we can make you the best offer for your company.
Tipping container in the picture
Options tipping container
Tipping container 2m³ with bin lifting - steel
Tipping container 2m³ without bin lifting - steel
Tipping container 3,2m³ with bin lifting - aluminium
Tipping container 3,2m³ without bin lifting - aluminium
Compaction system for 3,2m³
Roof cover for container
Vertical bin lifting
Double switch for body lifting device
Cabin options
Servopowered steering
Webasto heating
Electrical heating 1,8kW
Double DIN auto-radio with Bluetooth
Double DIN auto-radio with Bluetooth with rear-view camera
Beacon revolving light
Double LED blinking bar front
Double LED blinking bar rear
Triple LED blinking bar with roof bar
Rear-view window
12V USB charger
Pedestrian buzzer
Two-speed button settings
Mountain hill assist switch
RAL colour (except RAL 9016)
Special/Customized colour (non RAL-colour)
Closed box charging
Rubber floor mat
Chassis options
Addax hubcaps set (4 pieces)
Spare wheel with mounted all season tyre
Spare wheel with mounted winter tyre
Extra set of steel rims (without tyres)
Trailer hitch
Lower storage box with lock
Winter tyres with steel rims (4pieces)
Safety options
Fire extinguisher + Safety kit
Flat tyre kit
Jack + wrench
Warning stickers red white
Extra options
Cabin and chassis paint repair pen (RAL 9005)
Flatbed and tipper repair pen (RAL 9016)
Charger adaptor cable type 2
Looking for a customised vehicle?
Let's discuss what we can do for you.
Distributors
Distributors across Europe
A strong, experienced network of distributors across. Giving you a contact point anytime, anyplace. These distributors know the product trough and trough. Closely and meticulously following up on your fleet.