Back to overview
Configuration
Zero emission electric garbage trucks for your municipality
With many urban areas aiming to reduce CO2 emissions, having a fleet of waste removal trucks that are emission-free is the first step to ensuring a better environment for the members of your municipality. Addax's electric garbage trucks were created to solve the problem of air pollution that traditional thermic container trucks cause. Each Addax garbage truck is:
Designed for use in towns and cities, with features that make it well-equipped for garbage collection in amusement parks, residential neighborhoods, and recreational areas.
Equipped with the best in-class technology for optimal driving comfort, remote monitoring and driver safety.
Made in Belgium, ensuring the highest build quality of each unit.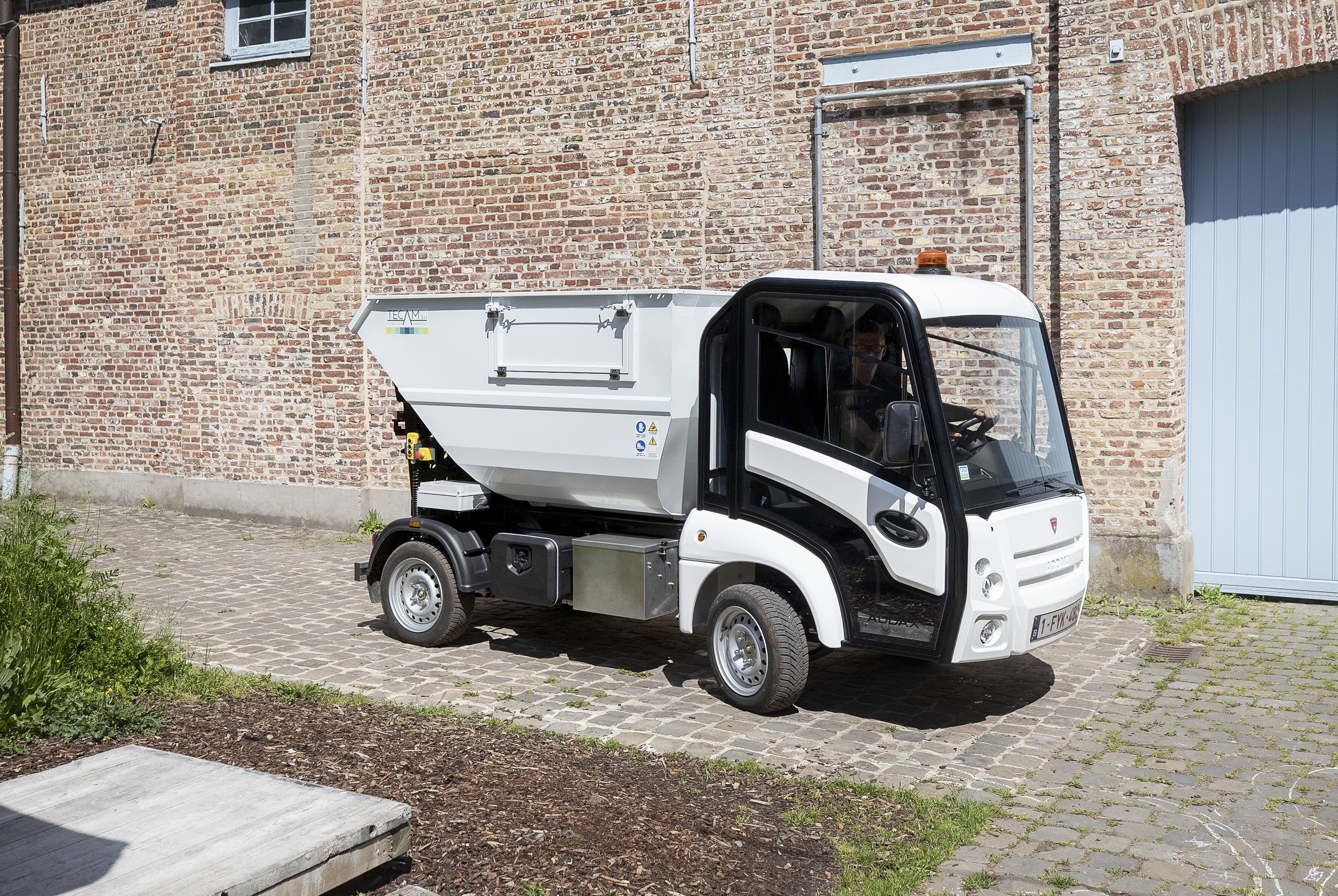 Quiet, emission-free and fully electric
We've chosen to break the mold. Say goodbye to garbage trucks that are heavy and difficult to navigate down narrow streets. Instead, Addax fully electric garbage trucks have a turning radius of 4,5m allowing our trucks to make their way through narrow city streets comfortably. Additionally, with a 1,000kg load capacity, our trucks are able to do more with less.
Addax fully electric garbage trucks can drive up to 120km on a single charge, reducing your carbon footprint. Garbage trucks often need to start and stop frequently, which you can do with peace of mind, since every Addax truck emits zero harmful gases and drives silently.
Waste collection of all kinds, simplified
Addax's fully electric garbage trucks can handle waste removal of all kinds. We have a wide selection of configurations available, allowing you to transport any kind of waste. From standard industrial containers for regular trash, to vertical containers for the collection and transport of liquids.
Whatever your daily, weekly, or monthly waste collection needs are—we can help you meet them! Contact us here, and a member of our team will reach out with more information on how we can help you.
Tipping Container in the picture
Tipping Container options
Tipping container 2m³ with bin lifting
Tipping container 2m³ without bin lifting
Tipping container 3,2m³ with bin lifting
Tipping container 3,2m³ without bin lifting
Compaction system for 3,2m³ version
Roof cover for container
Rear-camera for tipping container
Vertical bin lifting

Cabin options
Servopowered steering
Webasto cabin heating

- Webasto AirTop2000 (low temperatures)

Electrical heating

- Connected to the main battery of the vehicle

Double DIN car radio with bluetooth
Double DIN car radio wit bluetooth and rear camera

- The diafragm of the camera is 170°

Beacon revolving light

Double Led blinking bar front

- 2 LED-lights on the front panel

Double Led blinking bar rear
Triple Led blinking bar roof
Rear window

12v USB Charger

Pedestrian buzzer

Two-speed button

Mountain hill assistance
RAL Color (Except white)
Other color (No RAL color)
Chassis options
Addax hubcaps set (4pcs)
Spare wheel with mounted all season tyre
Spare wheel with mounted winter tyre
Extra set of steel rims (without tires)
Trailer hitch
Lower storage box with lock
Winterseason tires (delivered with steel rims) set 4pcs
Security options
Fire extinguisher
Flat tyre kit
Safety kit
Jack + wrench
Warning stickers DIN 30710 red white
Extra options
Paint repair pen (cabine and chassis RAL9005)
Paint repair pen (flatbed and tipper RAL7016)
Charger adaptor cable type 2
Looking for a customised vehicle?
Let's discuss what we can do for you.
Distributors
CONTACT AN ADDAX DISTRIBUTOR IN YOUR AREA
Addax distributors are located all over Europe, ensuring smooth purchasing and easy maintenance of your fleet. Click here to find a distributor near you.