Back to overview
Sector
Electric utility vehicles for cities and municipalities
The residents of your city or municipality deserve the best. Addax electric vehicles ensure that you're able to handle the most pressing tasks, all while ensuring that the environment is clean and emission free. Here are some of the benefits you can expect.
Quiet, 100% silent rides. Say goodbye to noise pollution, making Addax vehicles perfect for bustling cities.
No emissions or air pollution. Keep your city green and improve air quality, without compromising quality or efficiency.
Go further and do more on a single charge. Addax electric utility vehicles have a driving range of up to 120km on a single charge, a payload of 1000kg and are compact and maneuverable for tight city streets.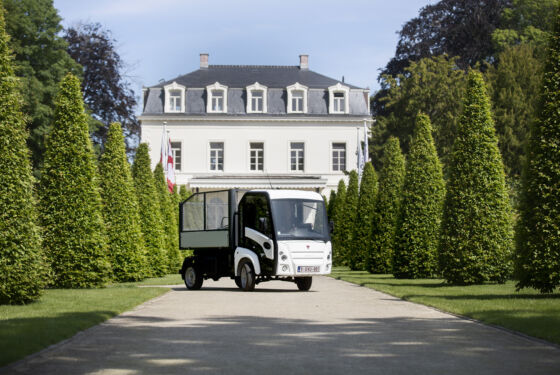 For City Management & Maintenance
An essential but often overlooked part of city maintenance, waste management is vital to the health and ecosystem of a thriving city. Our all-electric vehicles can be tailored to the specific needs of your city. For instance, our compact utility vehicles can be retrofitted with a tipping container for waste collection. The compact size of Addax electric utility vehicles make it possible for them to go where regular waste trucks can't, easily maneuvering through small cities. Additionally, our vehicles can also be used to maintain city roads and parks, in a way that's also good for nature!
For Park & Playground Management
Addax electric vehicles are a good choice for the management of your local park or playground. When retrofitted as a cargo van, our vehicles are ideal for transporting toys, park materials and other playground tools and equipment. Additionally, the choice of Addax electric vehicles creates a child-friendly, emission-free environment. Give the children in your city the gift of clean air while they play.
For Road Construction & Maintenance
Our electric utility vehicles are the premier choice for road construction, as well as the maintenance of both roads and public spaces. The large loading capacity of our electric vehicles makes it possible to efficiently transport the materials needed for local road works. Addax electric vehicles can be retrofitted with a tipper to carry raw materials to and from the construction site, or with a flatbed for the transport of signs.
The bottom line? Addax vehicles are adaptable to any situation, making them the perfect choice for your environmentally conscious city or municipality. For more information on how you can integrate Addax electric utility vehicles with your city, contact us. A member of our team is standing by to help you!

Configurations
Addax MTN: unique, durable and affordable
We pride ourselves on manufacturing electric vehicles that are completely Belgian-made and fully electric. The Addax MTN is the best solution for your company's urban transportation and delivery needs.

Looking for a customised vehicle?
Let's discuss what we can do for you.
Contact an addax distributor in your area
Addax distributors are located all over Europe, ensuring smooth purchasing and easy maintenance of your fleet. Click here to find a distributor near you.