Interview
THERE IS AN ADDAX VEHICLE AT THE COLOSSEUM
27 January 2023
For three generations the Carlo Poggi Company has been dealing with maintenance and restoration in the city of Rome, it is one of the most important companies in this sector in this city. In the company's DNA, sustainability has always been the added value, then operating in the center of Rome this sustainability has become fundamental.
One of the main works acquired by the company was the maintenance of some works on the Palatine Hill and in the Roman Forum, for those who do not know the hill is one of the oldest in Rome. In this area Romulus traced the furrow from which the city was born and is one of the most important archaeological areas together with the area of the Colosseum and the Imperial forums. The Palatine has an average of 7 million visitors a year and on their site about 12,000 daily contacts can look at the wonders it contains.
Meeting Carlo Poggi, owner of the company, we asked the reasons for choosing an electric vehicle.
"The choice stems mainly from three reasons – confirmed Ing. Poggi – the first is linked to the company philosophy that has sustainability as one of the main mantras, the second is that operating in the historic center we are operating a conversion of vehicles and after an experience with methane vehicles we are now testing the electric, the third motivation is linked to the size of your vehicle that perfectly matched the needs of the construction site "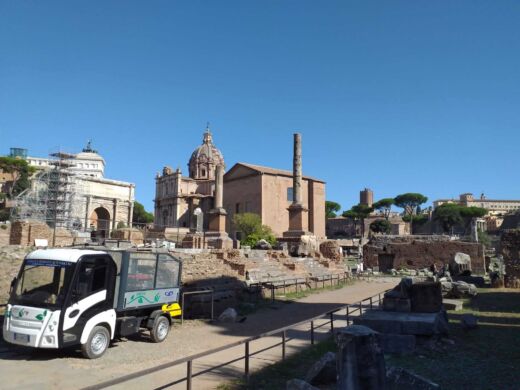 The vehicle, an MT15N equipped with a tipper body, works every day on the Palatine Hill 7 days a week, 365 days a year, starts in the morning with the emptying of the trash bins and then during the day is to support the various maintenance interventions for which the Poggi company is responsible. Since the beginning of its work, it has already covered about 2,000 km, it was delivered in August this year.
"The choice of the vehicle was born from the collaboration that has developed over the years with the Bondatti company of Lariano – adds Ing. Poggi – with whom we have already collaborated in the past. We wanted, as I said before, to acquire an electric vehicle to test its validity and use in the course of our work. Bondatti offered us the Addax vehicle with a rental contract with final redemption. The machine is fully satisfying our needs, also the lithium battery pack, the engine power and a transmission with direct drive are the first features most appreciated by our operators, together with the comfort of the cabin and the handling of the vehicle. We are evaluating – adds the Ing. Poggi – to test a new Addax machine as early as next year."