Nieuws
The world of EV mobility is changing, quickly
28 September 2022
It's true, more internal combustion engine (ICE) cars are being sold compared to electric vehicles (EVs) today, but that ratio is changing, and quickly. Already by 2025, it is expected that 1 in 5 new cars sold around the world will be electric. And yet, studies show that driving range and a lack of charging infrastructure are the primary reasons people still do not consider an EV when buying a new vehicle. This leads to the obvious question … is this anxiety real or unjustified? Let's have a look at the facts.
Range anxiety is – according to Wikipedia – a driver's fear that a vehicle has insufficient energy storage to cover the road distance needed to reach its intended destination, stranding the vehicle's occupants mid-way on a journey.
How far do Belgian households travel in their car/year?
According to the latest BELdam report on Belgian Daily Mobility, cars – belonging to Belgian households – travel on average 16,853 km per year. In fact, the report suggests that Walloon households drive a little more than that (17,773 km/year), while those in Brussels drive a good bit less (14,111 km/year). The number of kilometres driven in Flanders is roughly the national average (16,655 km/year). Interestingly, cars bought second-hand travel less than the average (14,882 km), while company cars – this should not come as a surprise – drive almost twice as many kilometres/year with an annual average of 31,616 km.
So how many kilometres is that per month? And week?



Average number of km driven

per year

per month

per week

Belgium

16853

1404

324

Flanders

16655

1388

320

Brussels

14111

1176

271

Wallonia

17773

1481

342

Company cars

31616

2635

608
It turns out that 15% of all kilometres driven by Belgians are driven by company cars, even though they represent a mere 8% of the cars registered to be on the road. You might think that these heavy-use drivers would be more reticent to change to EVs, but it is actually they who are leading the way when it comes to purchasing and driving electric vehicles.
No doubt, this 'commitment' to going green is driven by new legislation that affects their income. The government has confirmed that from 2026, only zero-emission company cars will benefit from tax advantages, and that any ICE cars purchased between 1 July 2023 and 31 December 2025 will gradually lose their tax deductibility.
Fact: 8 in 10 drivers do less than 100 km/day
A recent study conducted amongst 632,186 vehicle owners across Europe confirmed that 8 in 10 drivers travel less than 100 km a day, and that 6 in 10 drivers do less than 50 km/day. With most electric cars being able to travel an average of 300 km on a single charge, this means that EVs already exceed most drivers' needs.
EV charging … cost and availability
What if you knew that the cheapest fuel station in the country was actually available right outside your home? And not only did it offer you the cheapest fuel on the market, but it could actually meet the vast majority of your fuel needs? That would be cool, no? We are pretty sure that most people would put their hands up right away, and say 'where do I sign?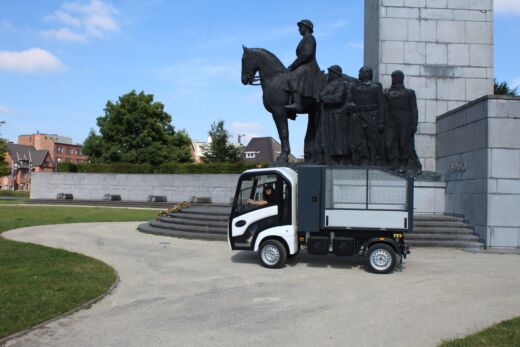 EVs already exceed most drivers' needs
The reality is most people who own an EV will only ever need to charge up their battery every 2 or 3 days. In fact, many – those who have a car with a larger battery – might be able to go a whole week without charging.
For EV drivers who use their cars every day, an efficient home charger will quickly remove all anxiety about making the next day's range. And for those who drive more, anxiety can be reduced by identifying the charging possibilities en route (including fast charging). According to EV drivers, it's possible to charge from 30/40% to 70/80% in a matter of 20 to 30 minutes (depending on charger). This is often enough to get them home or to their next destination, as it's the last 20% of charging that takes the most time.
The charging speed for any given car and situation depends on various factors such as the battery size, the car and chargers' charging capacity, and even the weather.
In Europe, you can easily drive long distances if you have an EV adapted to long range driving, and you plan ahead and charge when you can. After all, every car needs fuel to keep going, no matter whether it's electricity or petrol.
But how much does it cost to charge an electric vehicle in Belgium?
The calculation is pretty straight forward. It's simply the consumption of the electric car, which on average ranges between 12 and 20 kWh/100 km, multiplied by the kilowatt-hour rate of the energy supplier. Taking a median value of €0.48/kWh at peak times and €0.30/kWh at off-peak times (Engie Easy in Belgium), you obtain the following costs.
To reduce the cost still further, most electric cars have scheduling systems that allow charging to be started when electricity is cheapest. Naturally if you have solar panels at home, then the cost will be cheaper still. One thing is certain, this cost is significantly cheaper than the price of filling a petrol or diesel car, even if it achieves 5L/100 km. (Do the maths: 5L/100 km x roughly 2 €/litre = 10 €.)
Charging options on the road in Europe & Belgium?
to find an available charger near you or near to where you are going, and this virtually anywhere in Europe. It even tells you what type of charger plugs are on offer, and whether they are available or not.
AVERE Belgium, the local branch of the European Association for Electromobility, estimates there were about 10,000 charging stations in Belgium in 2021. Though this number is rapidly increasing all the time. According to LeasePlan, the Netherlands (28%), Germany (22%), France (14%) and the United Kingdom (12%) have the largest concentration of PCPs in Europe. In fact with 32,900 charging stations, the Netherlands is the clear leader in terms of public charging infrastructure. Belgium is in 10th place if you look at the ratio between the territory's surface area and the number of charging stations.
Finding and paying at PCPs
Wherever you decide to drive, we suggest you ensure you have an up-to-date view of the country's charging infrastructure. In addition to the car's own navigation system, many different apps are available to help you get to your destination A good app is: A Better Route Planner. We recommend you plan your itinerary to include the necessary stops to recharge your car.
There is a long list of charging station providers that fortunately are establishing roaming agreements between them, allowing users to use the same charge card in different provider stations. Free charging is also available at a number of chain stores, fast food restaurants and other retail outlets (Delhaize, LIDL, IKEA, McDonald's and so on).
| | |
| --- | --- |
| Blue Corner – Europe | Total EV Charging – Europe |
| ChargeNow – Europe | Fluvius – Belgium |
| CenEnergy – Europe | Moobi – Belgium |
| Eneco – Belgium | Fastned – Netherlands |
| EVBox – Europe | BlueCorner – Europe |
| EV Point – Europe | PlugInvest – Europe |
| Flow Charging – B/NL | PowerDale – Belgium |
| Luminus – Belgium | PitPoint – Belgium |
| NewMotion – Europe (Shell) | Allego – Belgium |
| Plug Surfing – Europe | Tesla – Europe (own network) |
What about the future?
While existing EV owners rely primarily on home and workplace charging, the growth of public charging stations – encouraged by incentives and legislation – will eliminate range anxiety and reassure prospective owners that there will be a charger where and when they need it.
From smart charging to off-grid solutions, technology will continue to be a major driver in the future of EVs. With the right planning, technology implementation and regulatory measures, as well as closer cooperation amongst all stakeholders (electric power utilities, private charging companies, car manufacturers, public authorities, etc.), EVs will become both an asset to the energy system as well as to the environment.