Nieuws
Georges-Louis Bouchez visits West Flanders' Addax Motors
31 August 2022
Deerlijk, August 30 - MR president Georges-Louis Bouchez attended a Voka summer internship at Addax Motors in West Flanders on Tuesday. He did a test drive of a newly assembled electric utility vehicle. Addax Motors is calling for the electrification of its fleet to be extended further into the electric transport and utility vehicle segment.

The Belgian manufacturer of electric utility vehicles is the only developer of electric utility vehicles in our country. Addax Motors wants to help put Belgium on the map as an innovative manufacturing country and to make a case for companies in the Belgian manufacturing industry.
Addax Motors and CEO Carrette are using the summer internship to show off the assembly line and the 6 different configurations of the Addax vehicles (from waste container to cargo, hydraulic tipper or refrigerated truck, with the option of customised finishing), but also to highlight the needs and concerns of the sector.

Need for incentive for electric utility vehicles
"Sustainable mobility is not just a matter of giving tax breaks to get company fleets to switch to electric driving. For electrification to go all the way, companies, cities and towns must also have easier and more economical access to sustainable transportation and utility vehicles," Addax Motors echoes.
"The electrification of (company) vehicles will only increase in the coming years. Electricity generated with renewable or nuclear energy is indispensable in the fight against CO2 emissions and it makes us independent of expensive, insecure and polluting foreign gas," says Georges-Louis Bouchez (MR).
West Flanders: birthplace of innovative manufacturing industry
More than 140 members of parliament, ministers and party chairmen signed up for a Voka summer internship this year, about thirty of them in West Flanders. With the internships, Voka is bridging the gap between the politicians and the workers.
"Mobility and the electrification of all types of fleets are a major challenge for the coming years. It is fantastic and striking that Addax Motors is doing this from West Flanders, by far the most enterprising region of Flanders and the cradle of the creative manufacturing industry," says Matthieu Marisse, Region Manager Central & South West Flanders at Voka.
The visit by Georges-Louis Bouchez and Voka ended with a constructive brainstorming session on the challenges currently facing Addax Motors and other innovative companies in the Belgian manufacturing industry.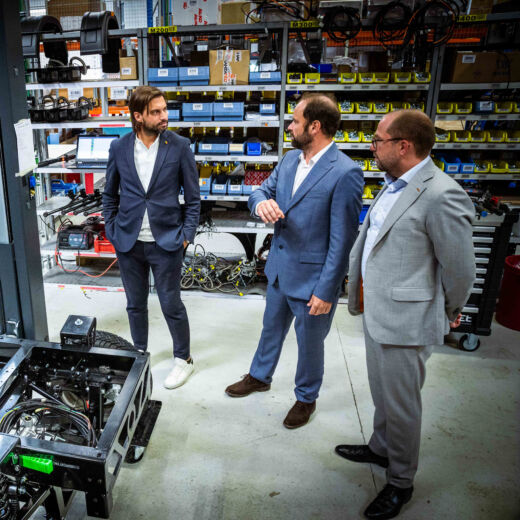 About Addax Motors
Founded in 2016, Addax Motors produces electric light utility vehicles in Belgium. Addax Motors is a European reference supplier in the field of urban and suburban mobility, providing clean, efficient and quiet commercial transport. From design and construction to maintenance, Addax Motors guarantees emission-free transport in leisure, urban areas and industry.
Smart technology plays a central role at Addax Motors, both for assembly tracking and through an AI data logging system in the vehicles. Addax Motors' customers include cities and towns (green services), retail companies (last mile delivery), industrial sites or amusement and theme parks.
With a team of dedicated employees at its headquarters and factory site in Deerlijk, Belgium, it serves the European market through an extensive network of distributors and dealers.