Nieuws
Addax Motors announces a new partnership agreement with Maskinhandler Indkøbsringen, for Denmark and Sweden
02 Februar 2023
Addax Motors announces a new partnership agreement with Maskinhandler Indkøbsringen, for Denmark and Sweden
Addax Motors, a Belgian manufacturer of Electric Utility Vehicles, continues to expand their distribution network in Europe.
Maskinhandler Indkøbsringen (MI) expands their product offer for the Cities / Municipalities segment by adding the Addax vehicle range to their current product portfolio.
This first new partnership for 2023 is part of the ambitious expansion strategy of Addax Motors in Europe.
Deerlijk, Belgium – 1February, 2023 – Addax Motors and Maskinhandler Indkøbsringen (MI)announce today their cooperation in Denmark and Sweden for the distribution of Electric Light Commercial Utility Vehicles to the Cities / Municipalities. The deal was closed on January 25th 2023.
The distributorship deal represents an important step in the growth strategy of both companies.
Addax Motors is present through an extensive network of distributors and dealers in 20 European countries, including their expansion in these 2 Nordic countries.
MI is broadening their product portfolio. Adding electric utility vehicles of Addax Motors to its agriculture and ground care range, is a natural direction towards its mission to make this sector environmentally friendly and rise the ergonomic level for this segment.
Both companies Addax Motors and MI will benefit from the cooperation, and further strengthen their ambitions and growth plans in the defined business segments.
Hans Gunnestad, Business Development Manager for Scandinavia and Baltics at Addax Motors, highlights the professional approach and organization of the MI teams in Denmark and Sweden as the cornerstone of future successful market penetration. Steven Forger, managing Addax' European Network added: "The well-established presence and good reputation of MI was an important factor in our decision-making process."
Daniel Kedzierski, Managing Director of Addax Motors, comments: "We are very enthusiastic about this new agreement. Our successful cooperation during the last years with distributors in 18 other countries in Europe, gives us the trust and acceleration power to build a strong cooperation also in Denmark and Sweden. Our commercial and technical teams 'customer first' approach create great opportunities in new countries on the distribution list."
Kristian Jakobsen, CEO of MI comments on adding Addax electric utility vehicles to the company's product portfolio: "We have taken a big step in going greener. The Danish government has made a commitment that all energy consumption should be 100 % fossil free within the next decades. The agreement with Addax Motors shows that MI is ready to provide the right solutions for the strong demand from the market. The philosophy and the high quality focus that is behind the Addax brand fits perfectly into the core values of MI as a supplier."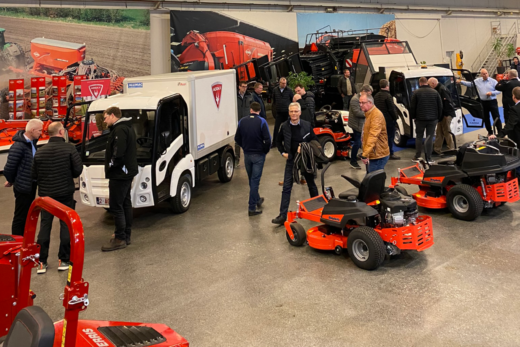 About Addax Motors
Addax Motors was founded in 2016 and manufactures Electric Light Commercial Utility Vehicles in Belgium. Addax Motors is a reference European provider in urban and suburban mobility, ensuring clean, efficient and silent commercial transport. From design and build up to maintenance, Addax Motors guarantees zero emission transport in leisure, urban areas, and industry.
With a team of dedicated employees in the headquarters and plant location in Deerlijk, Belgium, it serves the European market through an extensive network of distributors and dealers.
About MI
Maskinhandler Indkøbsringen (MI) has existed since 1963 as a purchasing cooperation for Danish agricultural machine dealers. Today, MI is a modern trade company with two main businesses areas. Agricultural machines and equipment for ground care. The products are sold through local MI dealers. In April 2022, MI became part of Dutch Zweegers Equipment Group BV.
MI has its head office and central warehouse in Vejle and employs 32 employees. MI is also present in Sweden with a wide dealer network and selected brands. In Vejle, the 1,200 m² showroom is open every day.